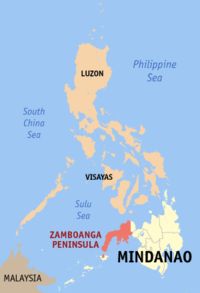 REGION - 9 : ZAMBOANGA PENINSULA REGION
Sub-Region IX-A consisted of Basilan, Sulu and Tawi-Tawi with Jolo, Sulu as the sub-regional center.
Sub-Region IX-B consisted of the provincess of Zamboanga del Norte and Zamboanga del Sur, with the chartered city of Zamboanga City as the sub-regional center. Zamboanga Sibugay did not exist at the time.
Zambaoanga Peninsula has five cities: Dipolog City, Dapitan City, Isabela City, Pagadian City, and the lone chartered city of Zamboanga City. Isabela City is actually part of the island-province of Basilan to the south of the peninsula, and is that province's capital. The residents of Basilan opted to join the Autonomous Region in Muslim Mindanao (ARMM) in a recent plebiscite. However, the citizens of Isabela City did not want to join ARMM and so the city was made a part of the Zamboanga Peninsula region with the enactment of Executive Order No. 36 (the same E.O. that renamed the region).
Zamboanga Peninsula consists of the territory of the three Zamboanga provinces and its lone chartered city of Zamboanga City, plus Misamis Occidental. The Zamboanga Peninsula is connected to the main part of Mindanao Island through an isthmus situated between Panquil Bay and Pagadian Bay. The boundary between the peninsula and the mainland is artificially marked by the border between the provinces of Zamboanga del Sur and Lanao del Norte.
Zamboanga Peninsula lies between the Moro Gulf, part of the Celebes Sea, and the Sulu Sea. Along the shores of the peninsula are numerous bays and islands.